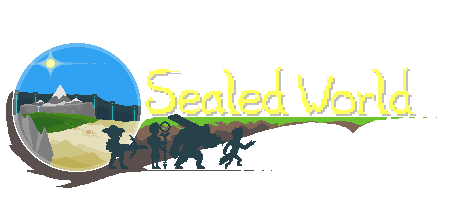 Sealed World
This is a bug fix and usability update, and does not include much new game content. However, that's not to say that a lot hasn't changed. Thanks for being patient over the past month or two with my radio silence on builds!

Bug Fixes
Z-Fighting on character rigs should now be almost universally solved.
Human Female character sprites are now un-broken.
Dying now interrupts spell-casts as it logically should.
Scroll bar on crafting window works as it should now.
Curltail Bandits in the lowlands are now hostile instead of friendly.
The Auto-Attack indicator now functions properly.
Tweaks
Crafting Materials in the crafting window now have tooltips.
Bronzite Mail and Platemail crafting recipes have been updated to make sense.
Various skill balancing changes (of note: double strike has been nerfed, majority of warrior skills have had energy costs reduced).
Chisia layout has been changed to include more hills. The city is overall significantly less flat than it was before.
The Chisian Town Guard job has been removed, all of the quests that were previously tied to it are now available for everybody.
"Dark Rumors" quest has been removed. In its place is a breadcrumb to the Chisian Town Guard quests.
Kobolds now drop less money (sorry).
Characters you are targeting are now outlined with a glowing outline.
Many items that did not have icons before now do.
Several skills that were missing them previously now have visual effects.
Certain monsters have been rebalanced to be more difficult.
Most level 6 quest monsters were using pre-squash numbers and have now been brought into line with the expected damage values.
The camera now focuses on the player character all of the time instead of lagging behind.
The lore text for races when creating characters has been significantly updated.
The bear has been relocated in favor of more howlers.
Combat Idle animations now only play when you're actively auto-attacking.
Certain skills are now restricted per weapon type. No more point blank shot with swords, sorry!
The title screen of the game has seen a major overhaul. New logo hype!
Added annoying little clicks to most buttons in the game, you're welcome!
Crafting and Gathering EXP reward algorithm was tweaked. Math!
UI Changes

The UI has been pretty significantly overhauled. Please let me know what you think!
Of note:
The teleport menu has been updated to include pictures of the destination.
The targeting UI has been completely redone.
Almost every texture has been updated across the entire UI.
Item Icons have been changed to more clearly display the actual item and rarity. (and just look better in general)
Character Creation now has a new color picker and class icons.
The experience points bar now stretches across the entire screen.
HP and Energy bars have been shortened.
The Dialog window has been completely overhauled and appears as a speech bubble over NPCs now.
Additions

A series of quests to do with Blacksmithing have been added.
New blacksmithing recipes for aforementioned quests have been added.
A new class of weapons has been added. Sword and Shields are now available in-game.
A Bank has been added to Chisia. You can store items in there and withdraw them later.
Added a texture to replace your default cursor while playing Sealed World for no reason other than because I can.
Known Bugs

Corpses don't disappear currently
Sometimes a howler can spawn at the bottom of the jungle ladder like a jerk.
Whew, that covers all of it. Thanks for taking the time to get this far in the patch notes, and as always thanks for playing :D.
Files
Sealed World 0.26.0
76 MB
Feb 26, 2018
Sealed World 0.26.0 Mac
82 MB
Feb 26, 2018