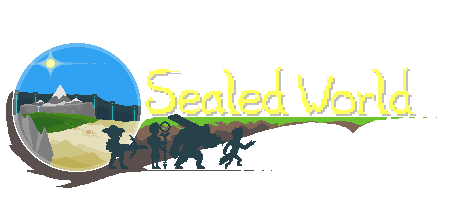 Sealed World
Whew it's been a while. My apologies about that! So here we are at Stable version 0.29.0! Here's the headlines:

Headlines

This build includes leveling content up through level 8. To get to level 9 on any given playthrough takes me about three hours, and I expect that it will take new players between 6-7 hours to get there. Do note that this is only for content leading to the Mountain right now, the desert will come later on.
You can now host a multiplayer server AND play the game from a single instance of Sealed World! Just pick the "Host and Play" option!
NPCs will move around at different times of the day now. People will go home to sleep at night, or head to the local tavern until morning.
You can purchase campfires from the General Store in Chisia which can be placed anywhere in the world. While standing around a campfire you regenerate health, and you can use it for cooking.
A few sprites have been redone: Namely the Raskaar sprite has been improved and Kobolds actually have a sprite now, although it hasn't been applied to enemy kobolds yet.
Lots of gameplay tweaks and at least 70 bugs stomped (I stopped counting...)
Monsters will now gladly chase you into town and out of their natural habitats.
Chisians have discovered what windows are.
That's the major stuff! Thanks for playing Sealed World and I'll see ya for the next build :D

Files
sealed-world-stable-win.zip
89 MB
Version 0.29.0
May 28, 2018
sealed-world-frontier-win.zip
87 MB
Version 0.29.0
May 28, 2018